Diversified Product Portfolio to Lead the New Revolution in Sustainable Development
WeEn Semiconductors Displays New Power Devices and Solutions at PCIM Europe 2023
[May 9th 2023-Nuremberg, Germany]
Today, WeEn Semiconductors-the world's leading supplier of power semiconductors unveils its new products at PCIM Europe 2023 in Nuremberg, Germany. With a diversified product portfolio including silicon carbide devices, thyristors and power diodes, high-voltage and low-voltage Si-MOSFET, IGBT, TVS & ESD and power modules, WeEn demonstrates its strength and capability as well as its ideas and mindset for the sustainable development of the power electronics industry in the future, which draws great attention from the visitors. Markus Mosen, CEO of WeEn, attended the exhibition with a team consisting of senior R&D engineers, marketing and sales.
PICM Europe, i.e., Nuremberg Power Electronics Systems and Components Exhibition, is the most influential exhibition in Europe for power electronics and its applications, intelligent motion, and power quality, and is also the world's largest exhibition for power semiconductors.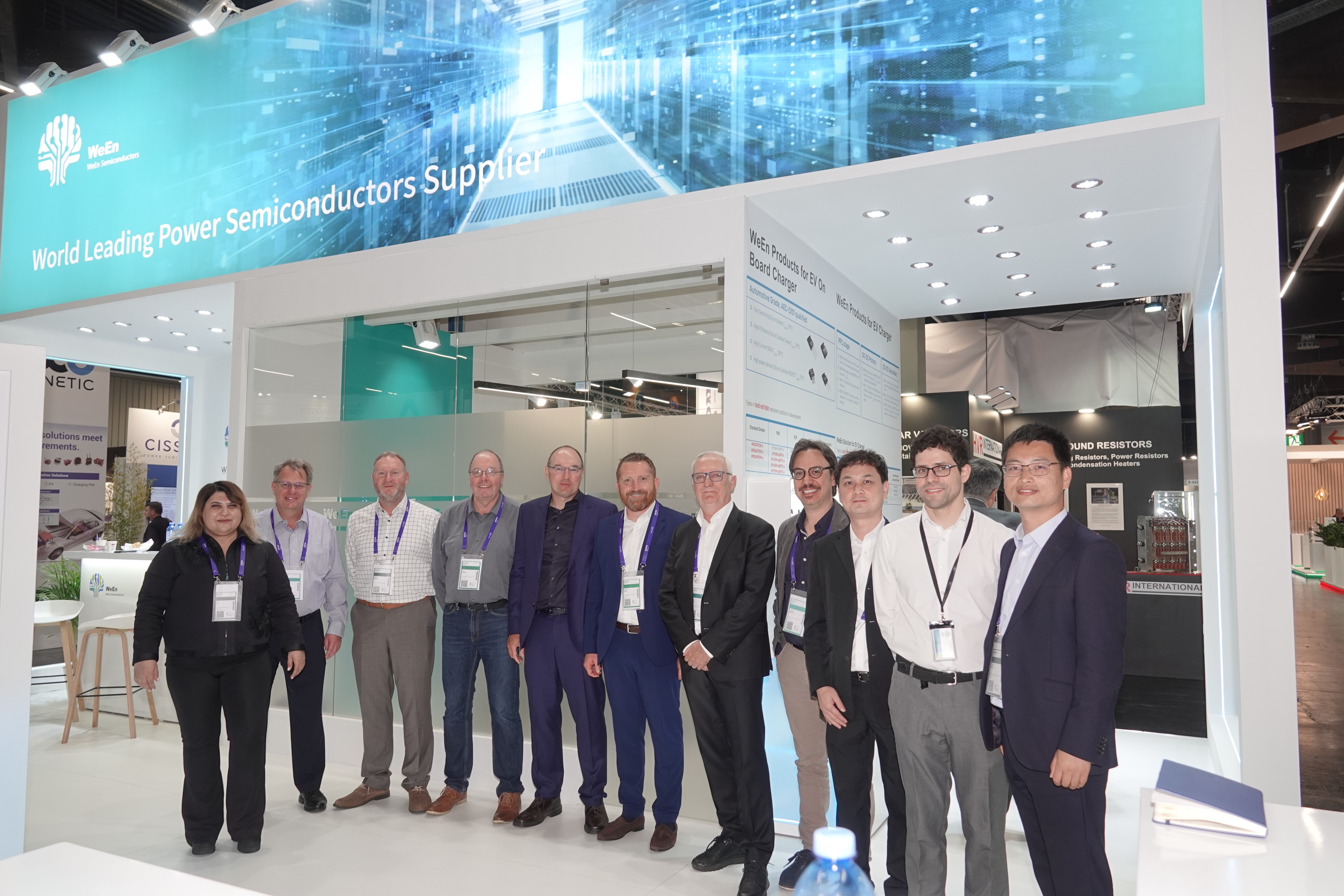 Group photo of WeEn team at PICM Europe 2023
With the theme of "power efficiency for a cooler planet", WeEn Semiconductors had a live showcase of its latest technologies at PCIM Europe, including the application of Silicon & Silicon Carbide based power devices in charging poles and in-vehicle chargers, and the breakthroughs in products for renewable energy industry. And by displaying a series of automotive grade power devices, it demonstrated that the products are moving towards the journey of creating cleaner and more energy-efficient applications.
Mr. Markus Mosen, CEO of WeEn Semiconductors, said, "Focusing on the booming renewable energy industry, WeEn Semiconductors, as an excellent supplier of devices, adapts to the market changes and caters to the customers' demands by innovation and optimized product design. We value the opportunity at PCIM Europe to display the latest applications of WeEn technologies. In the future, we will continue to release competitive products, and rely on our strong R&D and application team to integrate the diversified power products into system-level solutions so as to deliver greater value and better services to our clients."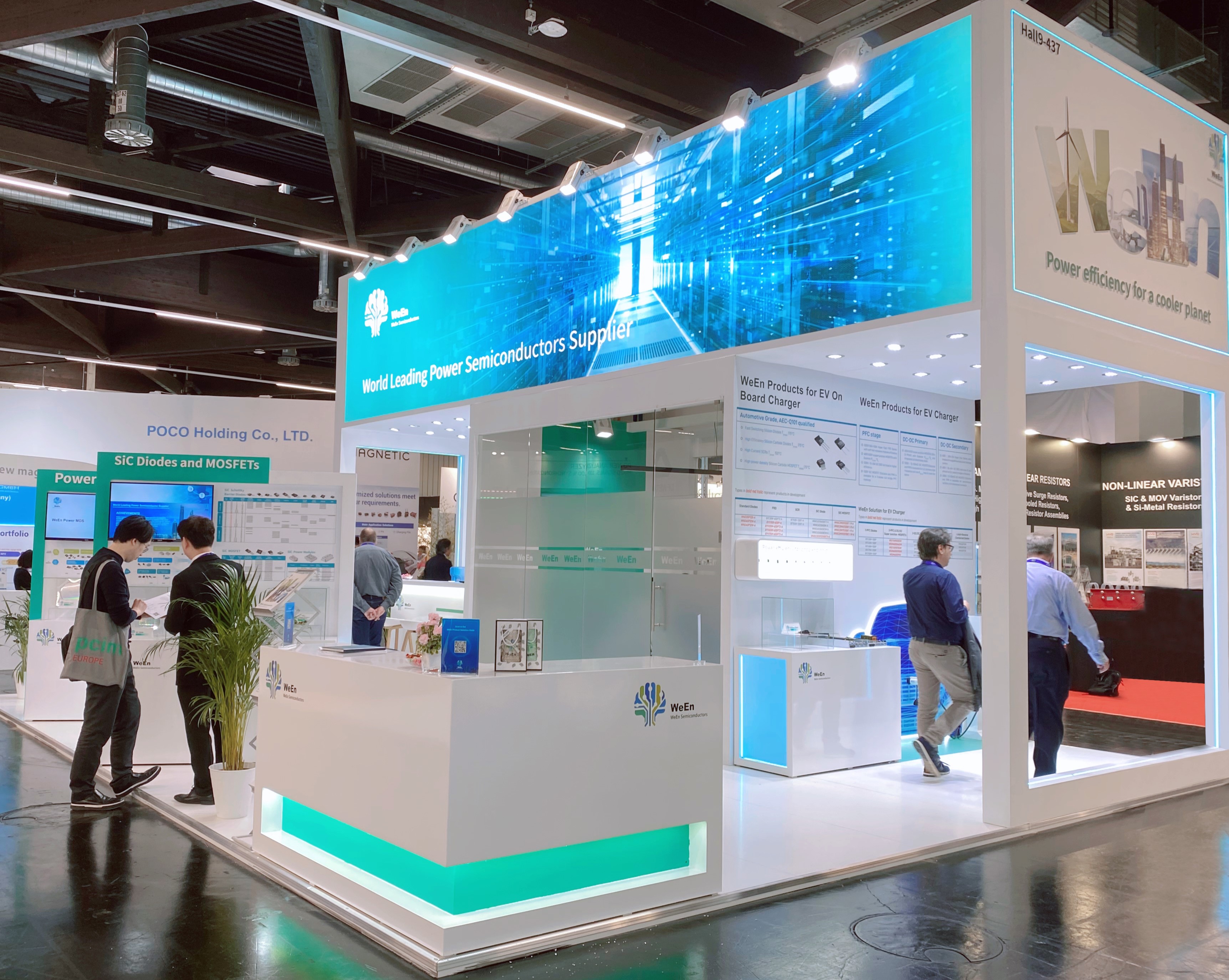 In addition to the automotive grade products in line with the trend of NEV, and the silicon carbide devices known for outstanding performance in high-temperature and high-voltage resistance, the wide range of power devices by WeEn Semiconductors boast their respective advantages and characteristics.
The 1200V and 1700V silicon carbide MOSFETs of WeEn Semiconductors displayed at PCIM Europe 2023 not only have leading FOM(RDS(on)*QG)index, safe threshold voltage, and reliable gate oxide layer design, but also achieve more stable on resistance at high temperature. Benefiting from the advanced techniques with higher cell density and optimized cell design, the SiC-MOSFETs realize a better balance between on resistance and gate charging character, thus reducing the loss of the power converting to improve the system efficiency.
The fourth generation of 650V fast recovery diodes feature high blocking voltage, low leakage current, low reverse recovery, strong avalanche resistance, etc. The optimized terminal design and advanced lifetime control technology ensure outstanding EMI performance and world-class reliability. This FRD has been widely used by consumer and industrial clients in such applications as switching power supply, UPS, PV, energy storage, etc.
SJ-MOSFET by WeEn Semiconductors with multi-layer epitaxial structure boasts high withstand voltage, low internal resistance, and excellent Rsp(on). On the premise of improved power density, it has extremely low switching loss and remarkable EMI, making it suitable for switching power supply, communications power supply, PV, energy storage, charging poles for NEVs, and many other applications.
In the showcase of SCR solutions, WeEn Semiconductors highlighted its advantage of SCR graphic design technology, including a maximum operating junction temperature of 150℃, low leakage current, and outstanding reliability. It is stressed that some package has passed UL1557 insulation certification and the sealing voltage endurance up to 2500V manages to provide clients with greater safety guarantee.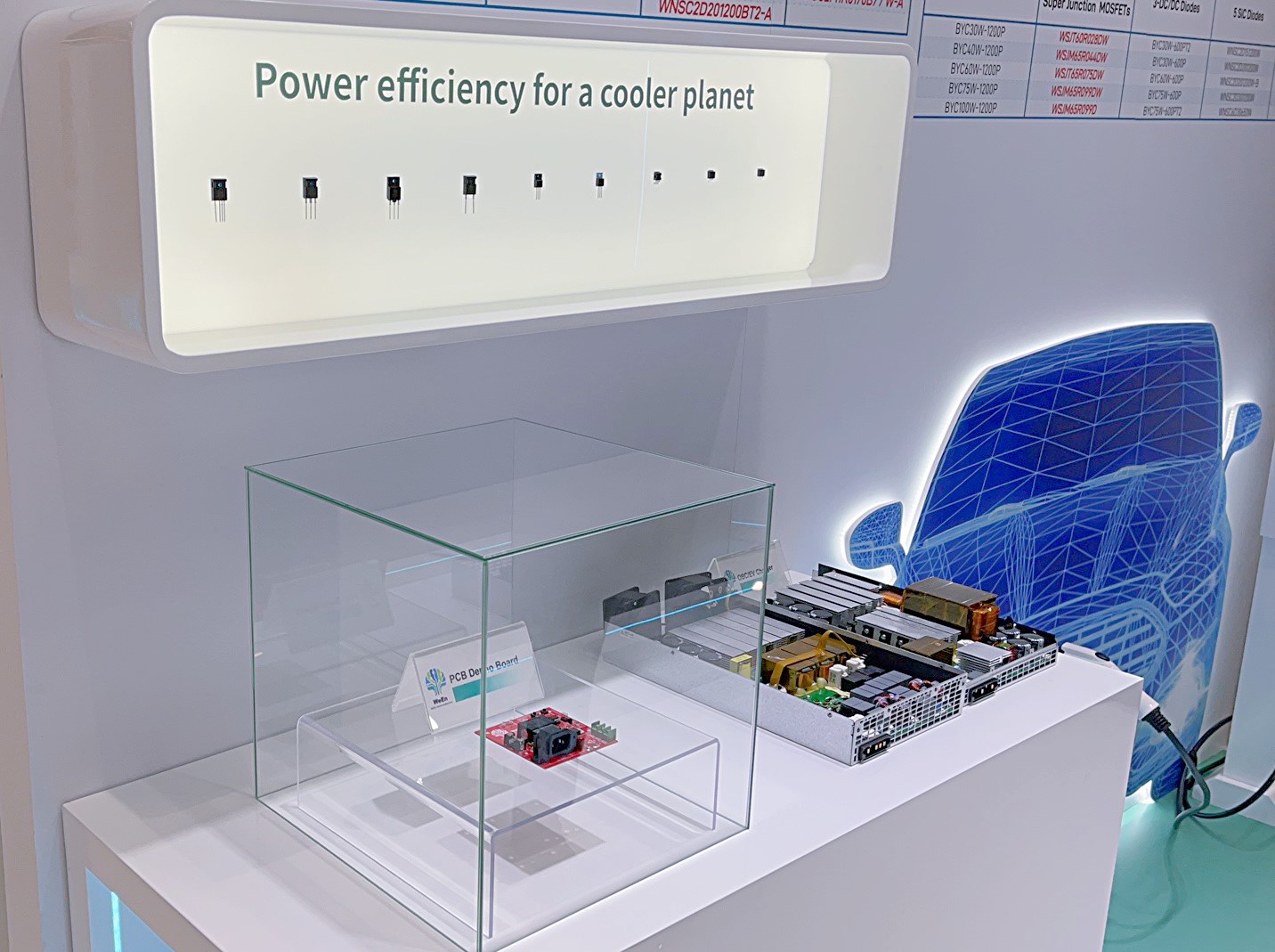 WeEn Semiconductors has been keeping and pursuing "efficiency, reliability, and innovation". It is our vision to become the leading China-based global Power Semiconductor Supplier. We enable our customers to achieve best-in-class efficiency in their applications by providing a broad portfolio of highly reliable and innovative power semiconductors, with best performance-cost ratio through optimization.
In 2023, WeEn Semiconductors will continue to focus on its investment in products and accelerate R&D for key technologies to achieve steady growth of its global business. Having withstood the multiple uncertainties in the external market and the changes of the general environment, WeEn Semiconductors will optimize the channel layout and make concerted efforts with our clients and partners to enhance products and technologies, accelerate innovative development, expand the market, achieve business prosperity, and create a bright future.
About WeEn Semiconductors
Backed by over 50 years' legacy in core technologies and with Global Sales Offices in Greater China, Europe, Asia Pacific and the Americas, WeEn Semiconductors' products are used in smart home appliances, electric vehicles, and telecommunications industries, providing customers with reliable and professional technical support in their respective industry segments. With its proprietary power semiconductor technology and excellent quality and performance, its products have been adopted and proven by many well-known companies across the globe.
For more information, please visit https://www.ween-semi.com.