WeEn Semiconductors CEO Markus Mosen Attends ISES CHINA 2023,
Silicon Carbide Drives New Energy Vehicles into the "Acceleration Era"
[Shanghai October 18, 2023]
Recently, Mr. Markus Mosen, CEO of WeEn Semiconductors, was invited to attend the 2023 International Semiconductor Executive Summit (ISES, formerly CISES) in Shanghai.
As a platform where semiconductor original manufacturers and equipment manufacturers gather, ISES focuses on senior management. Executives and leaders from the semiconductor industry around the world were invited to gather here, aiming to explore the future industry trends and challenges, and share how they drive technological advancement in a rapidly innovating and changing industry. ISES empowers the semiconductor manufacturing industry by promoting innovation, business and investment opportunities across the entire microelectronics supply chain, and facilitating the development of China's semiconductor industry.
At the summit, in the session with the theme of "Opportunities for Wide Band Gap Power Semiconductors in Automotive Applications", Mr. Markus Mosen gave a speech titled "How Does Silicon Carbide Accelerates New Energy Vehicles", sharing with industry audiences the development prospects of power semiconductor technology represented by silicon carbide, as well as how to use WBG devices to improve energy efficiency, and leverage energy and power systems to empower new energy vehicles.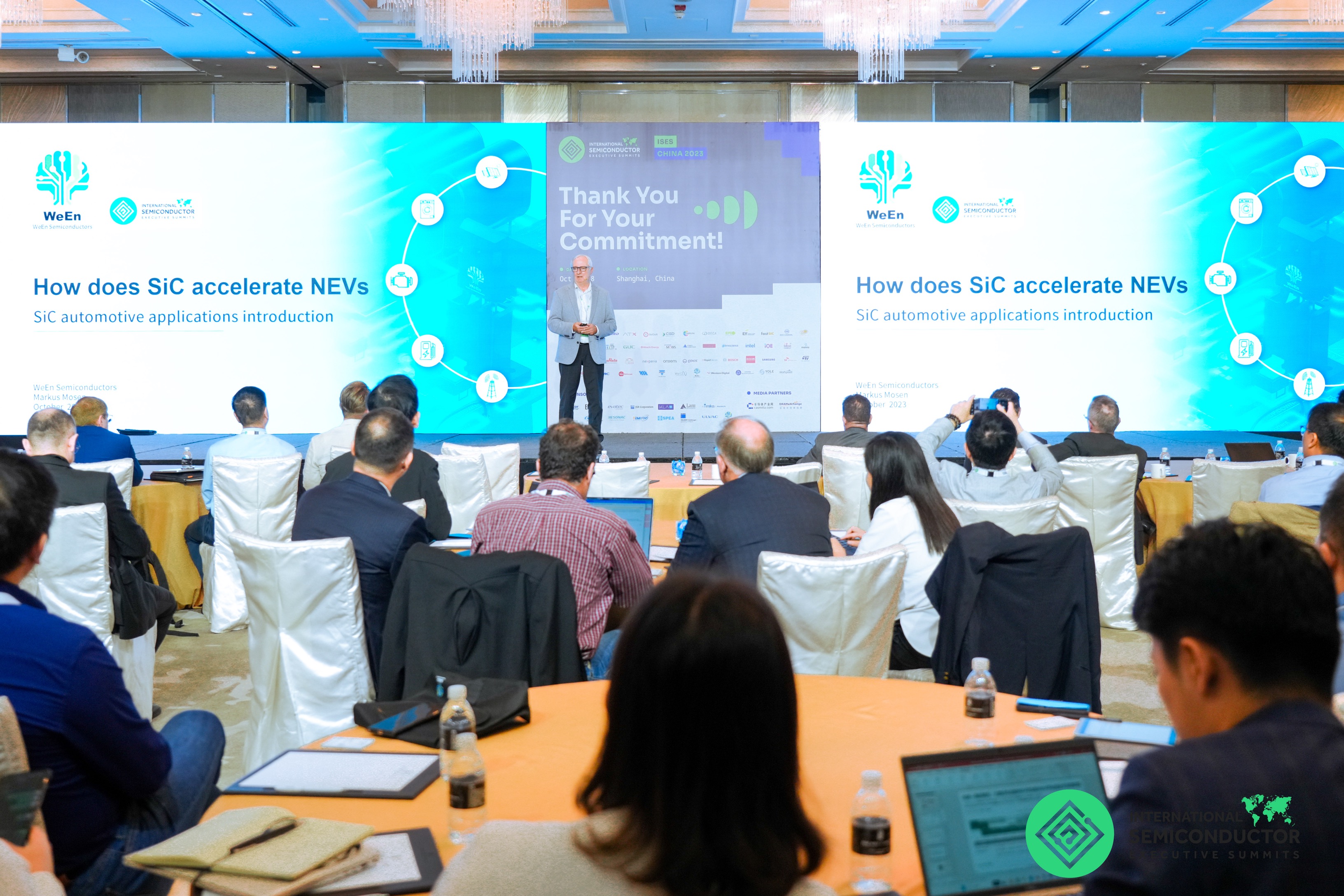 An undeniable fact is that in recent years, the global market for new energy vehicles has been heating up. Considerations based on environmental protection and reducing carbon emissions have stimulated consumer demand for new energy vehicles. China has also been continuously making efforts in the field of new energy vehicles.
In his speech, Mr. Markus Mosen primarily shared the current status and development trends of the new energy vehicle market. He also explained the development history of WeEn Semiconductors and updates for product technology. Mr. Markus Mosen, leveraging the industry-leading silicon carbide technology of WeEn Semiconductors, highlighted its robust capabilities in meeting the high-temperature and high-voltage requirements of new energy vehicles, particularly in inverters and on-board chargers.
Silicon carbide's band gap width, breakdown field strength, electron mobility, and thermal conductivity all surpass traditional silicon materials, leading to higher system energy efficiency, faster switching speeds, lower power loss, and stronger thermal management efficiency. Silicon carbide power devices can be used in the power systems of electric vehicles, covering electric drive inverters, on-board chargers, and DC-DC conversion systems. Mr. Markus Mosen emphasized that compared to traditional technologies, silicon carbide performs better in power handling. It can be used to design power supplies that are lighter and smaller in size, with higher power density, making it a perfect fit for the automotive and industrial sectors. Especially in the next few years, as market demands become more diverse and differentiated, the acceleration of new technologies and products will better support market needs.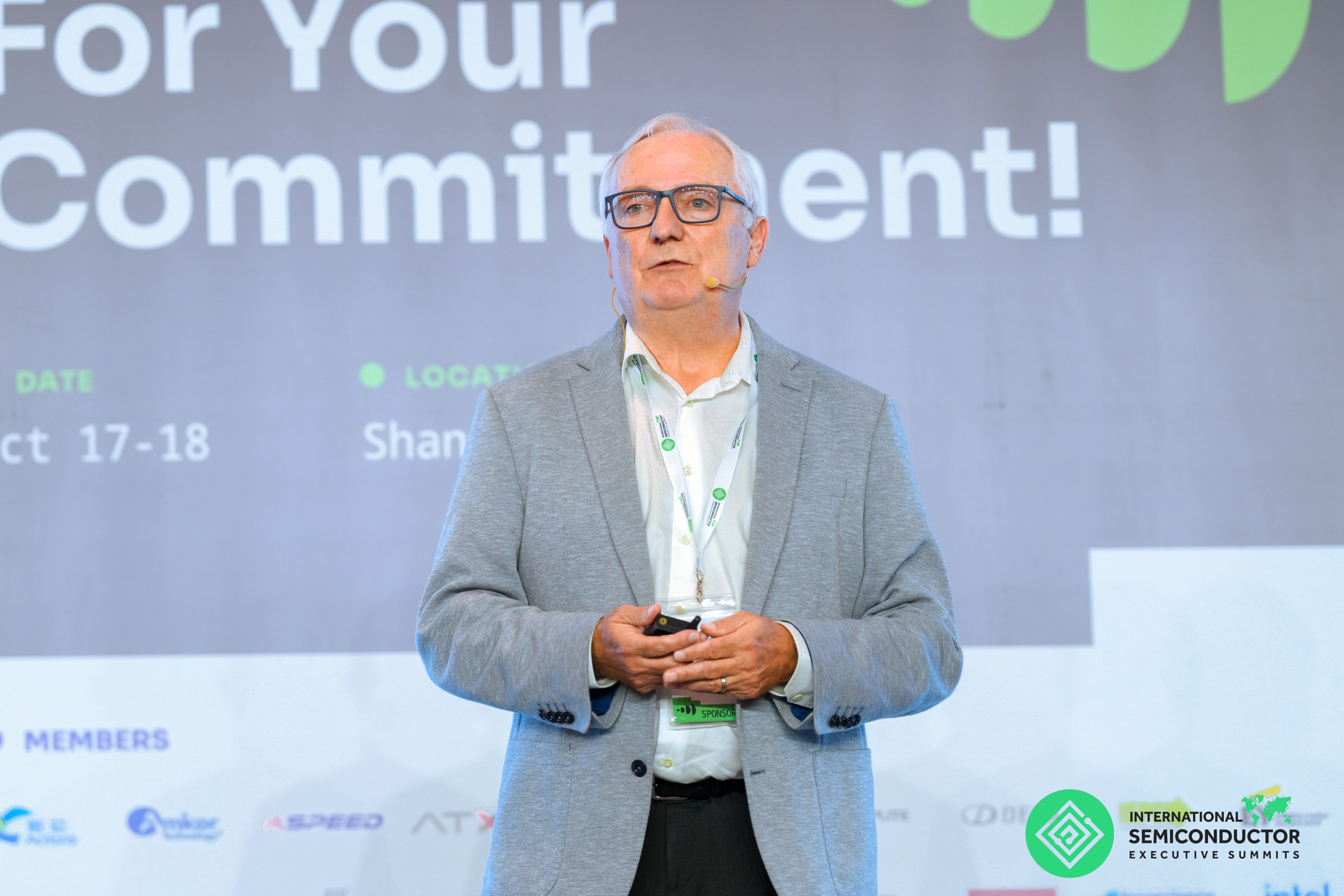 In response to the increasing value and importance of silicon carbide in automotive applications, WeEn has actively laid out and developed silicon carbide wafer technology. It possesses a complete independent intellectual property system for silicon carbide device design, forming a large-scale product lineup of silicon carbide MOSFETs and Schottky diodes. The device's voltage resistance range covers 650V~1,700V, fully meeting market requirements. WeEn has reached world-class levels in terms of product performance, reliability, supply chain and service network.
Markus stated that in order to better meet the current new energy market's demand for wide band gap power devices, WeEn Semiconductors has invested approximately 200 million yuan to establish a wholly-owned Jinshan module factory, which commenced operations in the Shanghai Bay Area High-tech Zone in July 2023. As WeEn Semiconductors' first module factory worldwide, the WeEn Jinshan Module Factory has introduced over a hundred of the industry's most advanced power module production and testing equipment. It will primarily produce various types of power module products used such fields as new energy and automotive. Taking the advanced silicon carbide module as an example, it will launch innovative modules and packaging services for the automotive and renewable energy markets, bringing a better experience for customers and partners.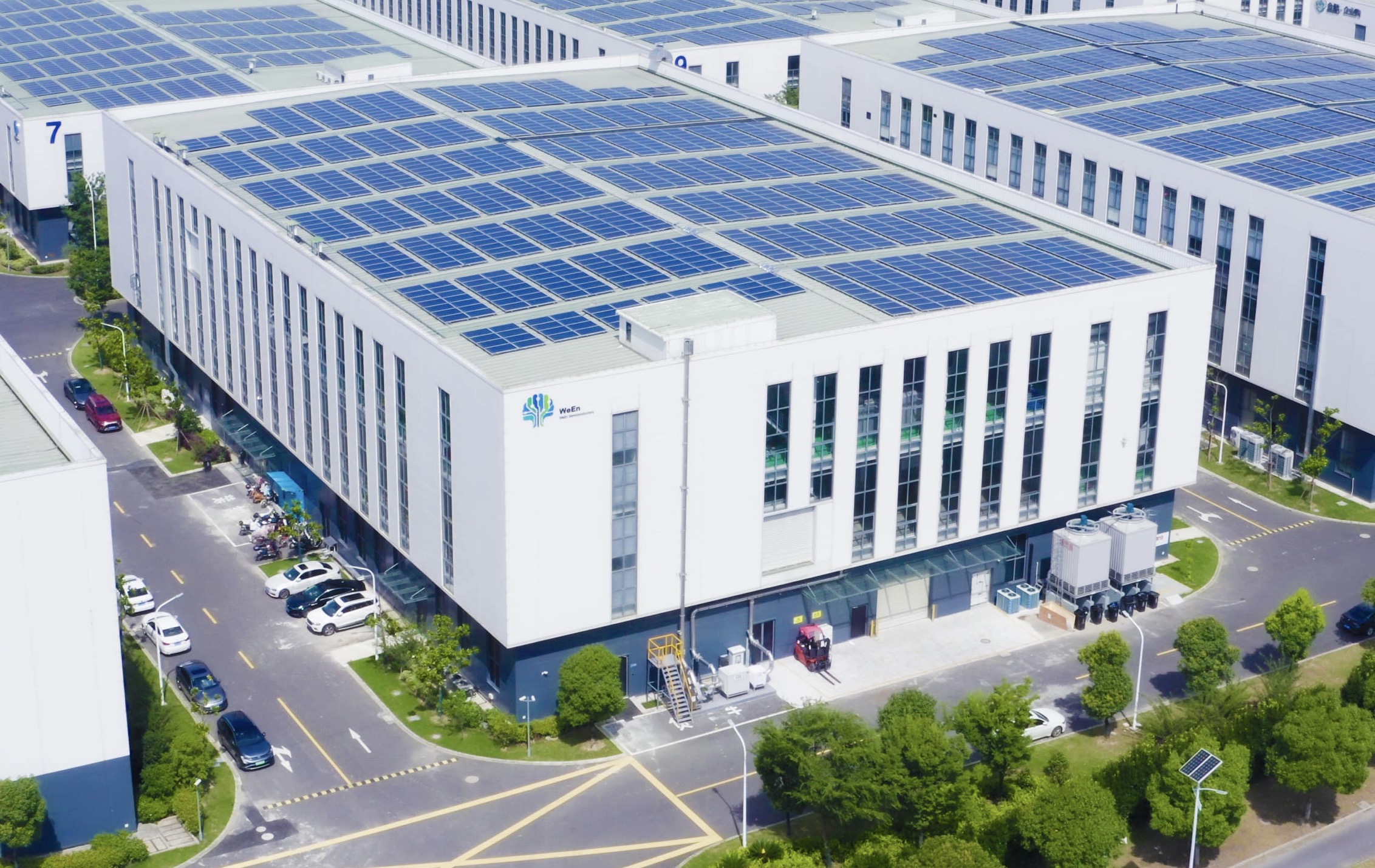 As an outstanding semiconductor supplier, WeEn Semiconductors has always been adapting to market changes and meeting customer needs through innovation and optimized product design. With the introduction of more and better solutions based on silicon carbide, new energy vehicle manufacturers can significantly improve vehicle performance and optimize vehicle architecture by adopting solutions based on silicon carbide products. This allows new energy vehicles to achieve lower costs, longer driving ranges, and higher power density. In the future, WeEn will continue to launch competitive products, and rely on a strong research and development and technical teams to accelerate the development of key technologies and achieve stable growth in global business.
About WeEn Semiconductors
Backed by over 50 years' legacy in core technologies and with Global Sales Offices in Greater China, Europe, Asia Pacific and the Americas, WeEn Semiconductors' products are used in smart home appliances, electric vehicles, and telecommunications industries, providing customers with reliable and professional technical support in their respective industry segments. With its proprietary power semiconductor technology and excellent quality and performance, its products have been adopted and proven by many well-known companies across the globe.
For more information, please visit https://www.ween-semi.com.