Strategic Cooperative Agreement Signed between WeEn Semiconductors and Haier COSMOPlat
Committed to Intelligent Empowerment and Accelerate the Exploration
[Apr. 17th, Hannover, Germany]
Recently, WeEn Semiconductors, the world's leading supplier of power semiconductors, and Haier COSMOPlat (hereinafter referred to as COSMOPlat), a world-class industrial Internet platform, sign a strategic cooperative agreement at Hannover Messe in Germany (hereinafter referred to as Hannover Messe). The two parties will give play to the resources and advantages in their respective fields, and aim to, through efficient and innovative cooperation models, promote intellectualized reconstruction, facilitate the intelligent and digital transformation of global industrial Internet, build a stable and sustainable strategic partnership, and usher in a new chapter of the high-quality development of industrial Internet.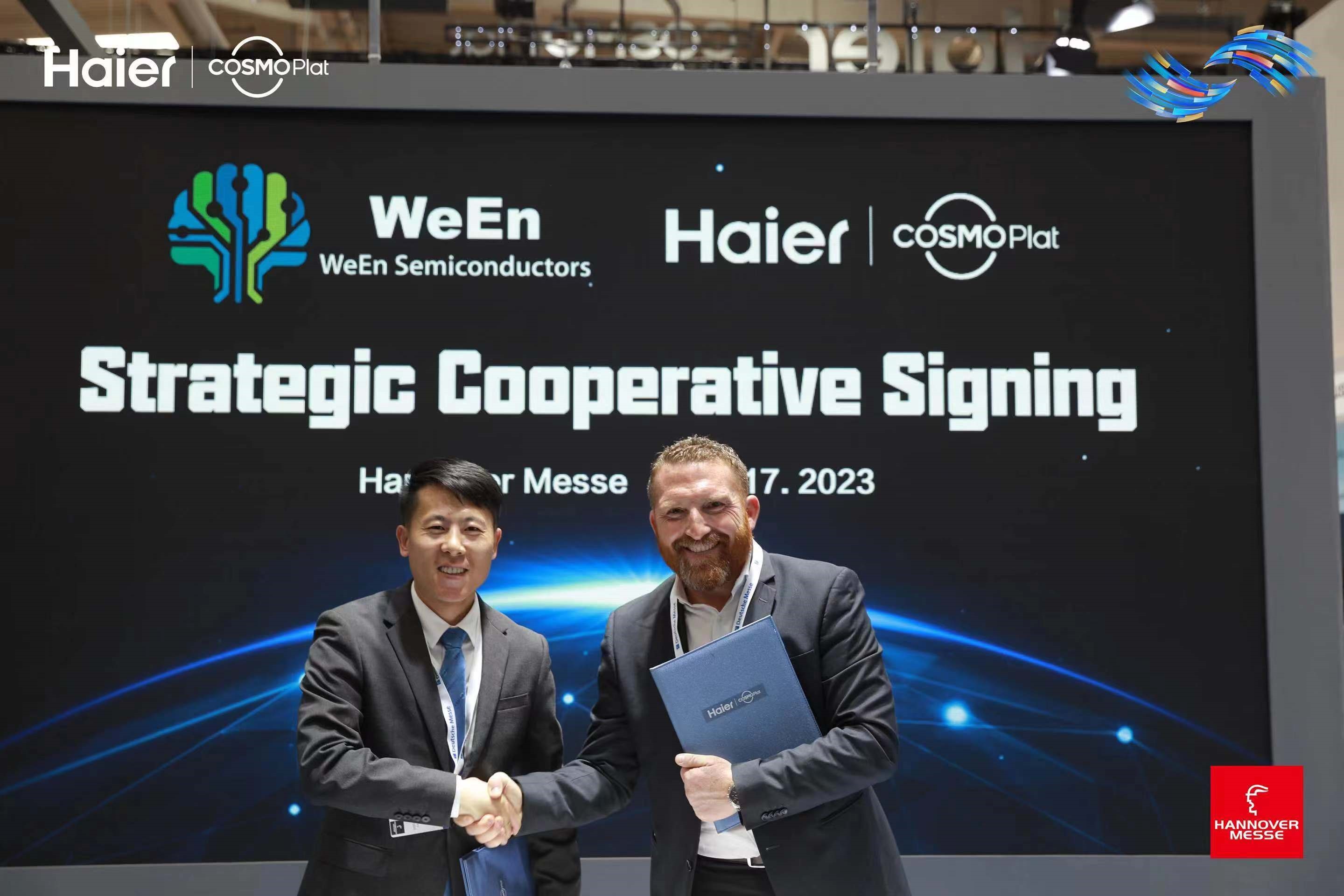 Strategic cooperative signing between Haier COSMOPlat (on the left) and WeEn
As the world's largest industrial fair, Hannover Messe 2023 attracted over 4,000 enterprise exhibitors from manufacturing, digitization sector, and energy industry. Industrial Internet, as a product of the deep integration of the new generation IT and manufacturing, has become the key support for the new industrial revolution, and the cornerstone for deepening "Internet + advanced manufacturing". COSMOPlat has participated in Hannnover Messe as an industrial Internet platform with independent IPR for five times since 2017, showcasing to the world the power of innovative industrial development in China.
When talking about the strategic cooperative signing, the person in charge of the relevant business from COSMOPlat said,"WeEn Semiconductors, with its excellent and reliable quality, responsive and effective customer services, as well as the global sales network, has withstood the strict supplier screening system of COSMOPlat and won great trust from us. It is a trustworthy global brand, a key supplier of Thyristor & Triac products to COSMOPlat." In the future, relying on its product and technology advantages, WeEn Semiconductors will continue to provide reliable and high-efficient power semiconductor devices for COSMOPlat. Focusing on new product R&D, technical services, and product promotion, WeEn Semiconductors will deepen its cooperation with COSMOPlat to help it achieve optimal efficiency in specific applications. The two sides will join hands to build a new ecosystem for intellectualization and digitization and to promote the sustainable development of the industrial Internet.
Mr. Andrea Berni, Sales Director of West Region of WeEn Semiconductors, said, "Intellectualization and digitization are the key driving forces for high-quality industrial development. The signing of the strategic cooperative agreement marks a new chapter of digital cooperation between WeEn Semiconductors and COSMOPlat, which will definitely reshape and enhance the core competitiveness in the process of industrial intellectualization and digital transformation, ensure the orderly business operation, and create new milestones in a win-win situation."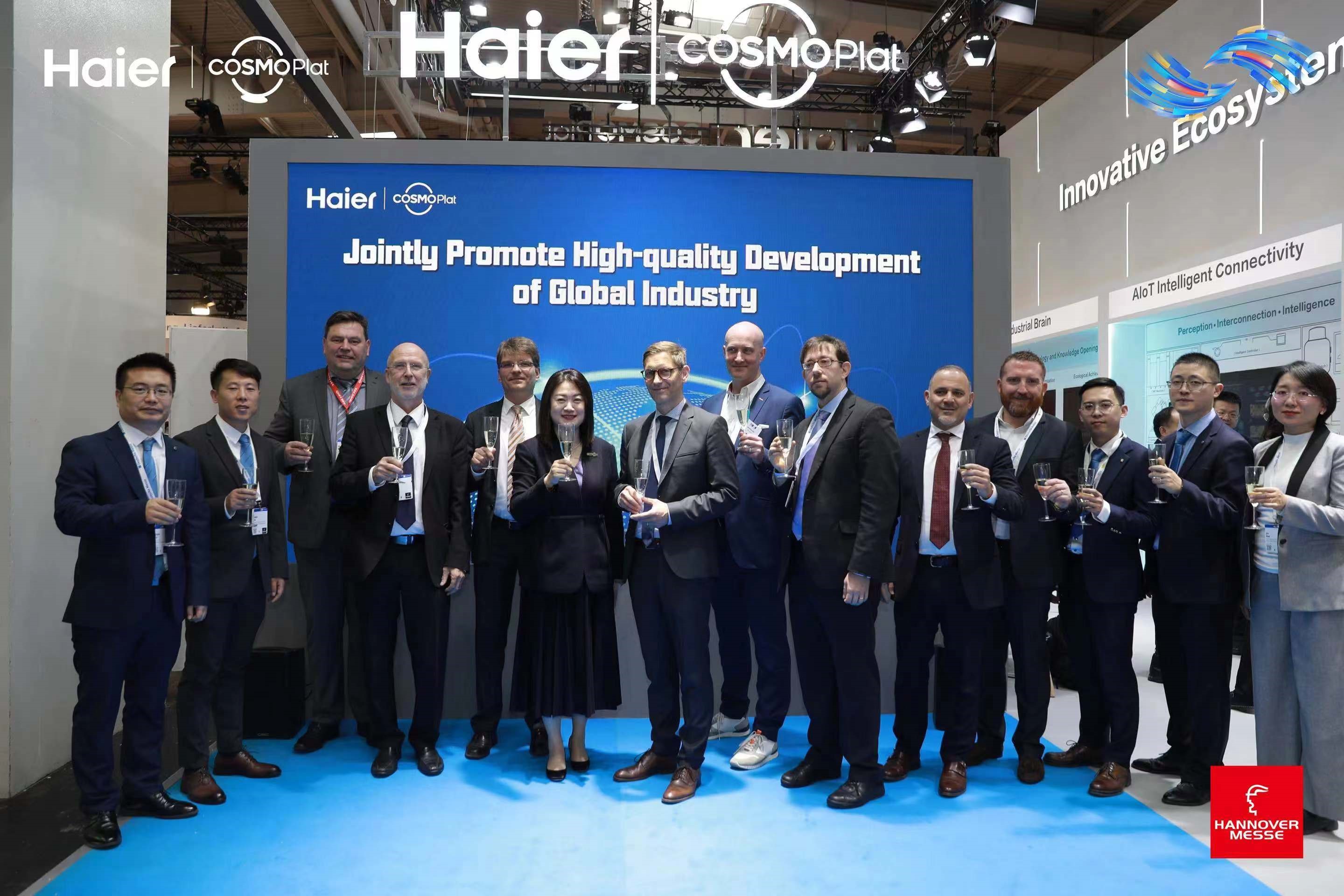 About WeEn Semiconductors
Backed by over 50 years' legacy in core technologies and with Global Sales Offices in Greater China, Europe, Asia Pacific and the Americas, WeEn Semiconductors' products are used in smart home appliances, electric vehicles, and telecommunications industries, providing customers with reliable and professional technical support in their respective industry segments. With its proprietary power semiconductor technology and excellent quality and performance, its products have been adopted and proven by many well-known companies across the globe.
For more information, please visit https://www.ween-semi.com.