Power Semiconductors: Pivotal in Carbon Reduction and Fostering a Cooler Planet
Climate models indicate that a doubling of carbon dioxide concentrations in the Earth's atmosphere would result in a temperature increase of 2 degrees. Presently, the excessive global emissions of carbon dioxide have resulted in a yearly increase in the Earth's average temperature. Despite the specific directives outlined in the 2015 Paris Climate Agreement to curb global warming: limiting greenhouse gas emissions with the aim to keep global warming as close as possible to 1.5 degrees Celsius above pre-industrial levels.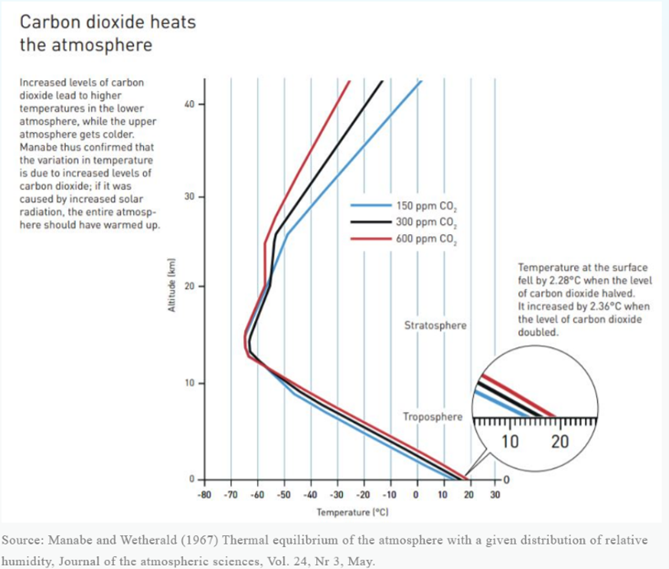 Relationship between carbon dioxide concentration and global average temperature
However, according to a report from Die Welt in Germany on October 30, adhering to the 1.5 degrees Celsius temperature control target stipulated by the Paris Climate Agreement may prove to be more challenging than previously envisaged. Researchers, based on the latest data and improved models, have arrived at a less than ideal conclusion: to reach this goal, human carbon dioxide emissions should be significantly less than the estimates of the Intergovernmental Panel on Climate Change's Sixth Assessment Report.
The research team led by Robin Lamboll at Imperial College published an article in the professional journal Nature Climate Change, stating that at the global carbon dioxide emission level in 2022, the estimated emissions in the aforementioned assessment report may be exhausted in about 6 years.
What can semiconductor manufacturers do to help mitigate global warming?
"If the average temperature increases by 4 degrees Celsius, it will inflict severe damage on global ecosystems. To achieve the target of 1.5 degrees Celsius and help reduce global temperatures, it requires the collective efforts of all countries to effectively reduce greenhouse gas emissions." At the recent Global CEO Summit 2023 hosted by ASPENCORE, Markus Mosen, CEO of WeEn Semiconductors, said in his speech titled "Power Semiconductors contribute to a Cooler Planet " that power semiconductors are an unavoidable topic because they are closely related to the power consumption and heat dissipation of all electrical devices. "Over the past decade or so, semiconductor professionals have been dedicated to minimizing power loss or energy waste, and thus many new technologies and innovations are precisely aimed at this point."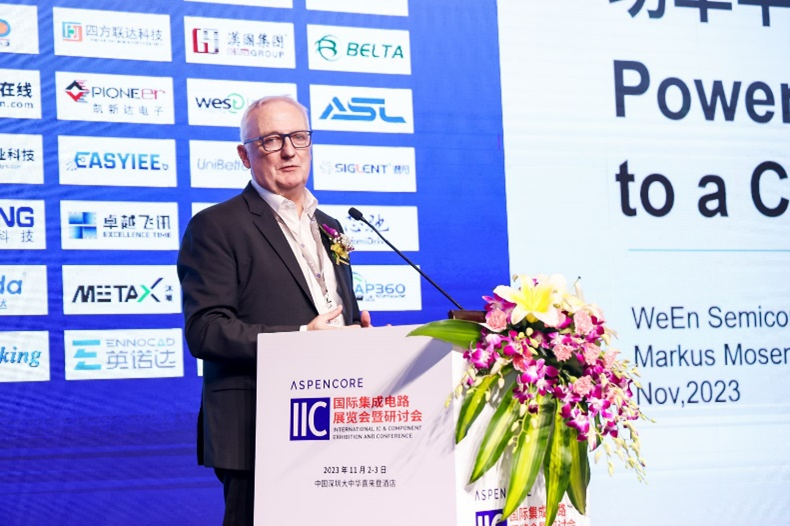 WeEn Semiconductors CEO Markus Mosen
"Where does all this carbon dioxide emission come from?" Of these, 50% comes from the energy sector, 30% from industrial production, 10% from transportation, 5% from construction, and 5% from agriculture. It can be seen from the analysis of factors causing temperature change that carbon emissions from human activities are the main factor for temperature rise, while natural environmental changes do not cause significant temperature changes.
So, how can we reduce carbon emissions? Firstly, we need to introduce renewable energy sources such as solar, wind, and bioenergy, to reduce carbon dioxide emissions and the expansion of carbon footprint from the source to the fullest extent. Secondly, in terms of industrial production and transportation, we need to save energy and use clean energy as much as possible. "For example, energy storage systems in the industrial field can store the collected clean energy for later use, and electric or hybrid vehicles also help to reduce emissions in the transportation field." Markus Mosen said, "From the perspective of semiconductor manufacturers, what we can do is to facilitate this process through technology."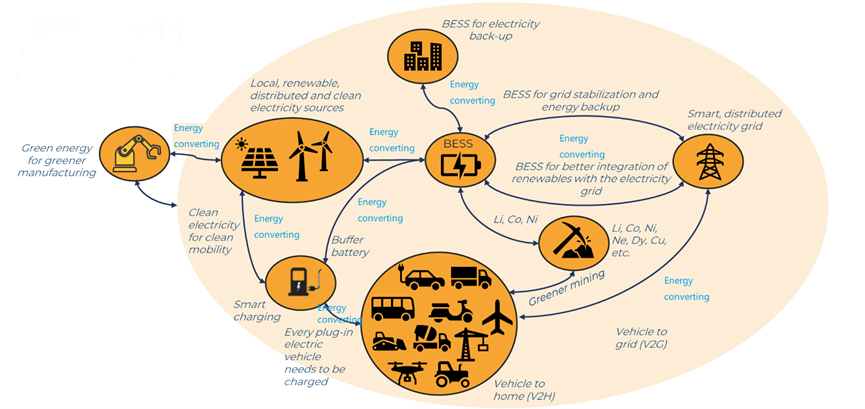 Power semiconductors play a role in energy saving in various industries.
Image Source Yole 2022
As a power semiconductor manufacturer, we often have to play two roles in Carbon Neutrality. One role is reducing carbon emissions in our own production and operations, the other more important role is using our products to help other enterprises and industries achieve energy conservation and carbon reduction. In an exclusive interview with Electronics Engineering Album, Markus Mosen elaborated on the efforts made by WeEn Semiconductors in these two aspects.
For an IDM company like WeEn, achieving its own green goals is a huge challenge. Due to the unique nature of the semiconductor industry, the focus is more on the use of water and chemicals, and the proper handling of hazardous substances, rather than directly discharging them into rivers. This is what WeEn is striving to do. At the same time, in terms of reducing carbon dioxide emissions from factories, WeEn will also use more efficient power semiconductors or intelligent modules to improve power losses caused by conversion efficiency.
"Power semiconductors play an even bigger role in helping other industries reduce carbon emissions. From entire countries or cities to individual households or individuals, all kinds of chargers, computers, or cars involve power semiconductors. A highly efficient power semiconductor can help reduce power loss and increase efficiency. This is also part of our efforts to save energy and reduce emissions." Markus Mosen said.
Carbon Neutrality drives power semiconductor innovation
IGBT, FRD, MOSFET and other power semiconductors and power modules are the core devices for energy conversion. Clean energy converts light energy into electrical energy through a series of power transformations (DC-DC, DC-AC, BUCK-Boost), and the electrical energy is then converted in various systems to meet application needs.
Markus Mosen stated: "The entire semiconductor industry has a history of only about 40 years. It only emerged in the late 1960s to early 1970s, so optimizing its energy consumption is indeed a new challenge. But we hope to save energy, for example, in the process of domestic heat production, through optimization."

Discrete power device market status (2023) and forecast (2027)
From the user end such as electric vehicles, to the power supply end such as power grid, the core components for achieving energy saving are semiconductors, some are discrete devices, some are modules or complete systems. From the perspective of semiconductor applications, power consumption can be reduced by more than 50%, and the introduction of some new materials can also help reduce energy consumption. Wide band gap semiconductor materials such as SiC and GaN have better performance and heat resistance. The modules formed in combination with the original silicon-based power devices are superior in controlling power efficiency, reducing power loss, and overall packaging size compared to the previous single silicon-based modules.
By 2027, the power device market size will grow to USD 28.3 billion, with a compound annual growth rate (CAGR) of 6.25%, an absolute growth rate of 35% compared to 2023. Although silicon-based power devices will still account for 80% of the entire power semiconductor market, the compound semiconductor will see significant growth, mainly benefiting from the large-scale use of SiC-MOSFET and GaN HEMT, with its market share increasing from 7% in 2023 to 17% in 2027.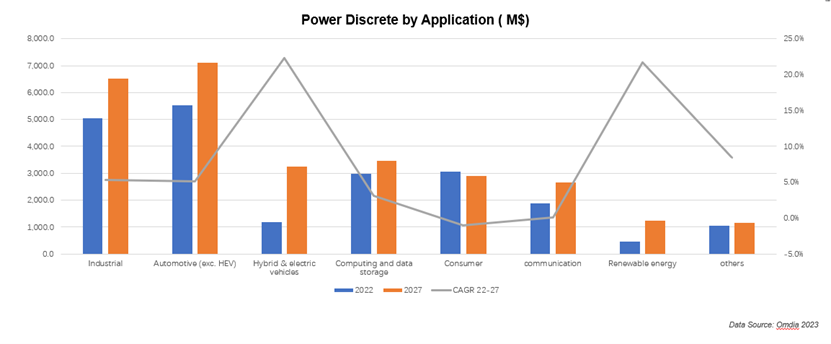 Electric vehicles and the new energy industry are the core engines for the development of power semiconductors.
Among them, industry and automotive are the largest application markets for power semiconductors. Benefiting from the global Carbon Neutrality policy, the compound annual growth rate of hybrid electric vehicles (xEV) and renewable energy will exceed 20% in the next five years, which is the engine for the growth of the power semiconductor market.
For electric vehicles to be truly environmentally friendly, they need more efficient semiconductors
The current consensus is that electric vehicles are more environmentally friendly than gasoline vehicles. However, electric vehicles need to charge, and if the conversion efficiency of the charging system is low, the electric vehicle itself becomes a source of high energy consumption and emission. Such a product cannot be considered environmentally friendly. This is why, when designing electronic products, manufacturers of these products not only need to consider using renewable energy, but also ensure that energy consumption and overall circuit design meet the low-power requirements.
"Although many people complain that the mileage of an electric vehicle on a single charge is very limited, if silicon-based semiconductor technology or other new materials and new component modes are used, the mileage of a single charge can be greatly increased, and the charging time can be greatly shortened." Markus Mosen mentioned that many electric vehicle owners believe that a single charge takes several hours, while refueling a gasoline vehicle only takes a few minutes. "This indeed is a technological barrier at present, but if we can find a technology that can achieve fast charging in 15-18 minutes, which is even faster than refueling, then the barrier can be broken."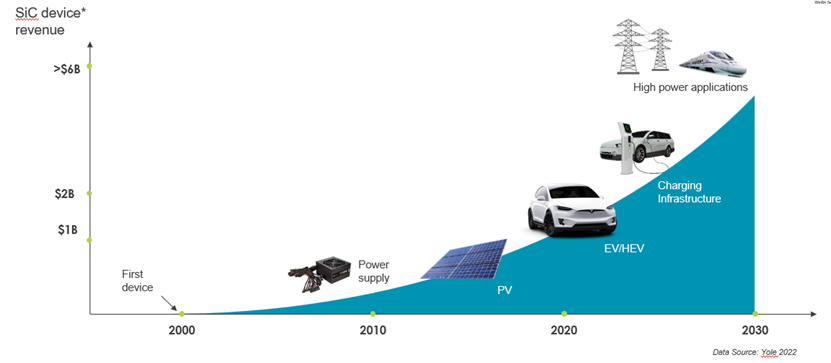 Future revenue and application field forecast of silicon carbide devices
The key to this breakthrough lies in compound semiconductors. Clean energy such as photovoltaic, as well as 5G and big data, are important application markets for compound semiconductor devices that require high energy efficiency. The rapid development of new energy vehicles will also become a major application market for compound semiconductor devices such as silicon carbide. In the future, the demand for high-power transmission of compound semiconductor devices will also increase.
For power semiconductors and power devices, there is no doubt that electric vehicles are the most rapidly developing application market. With the promotion of electric vehicles in various countries, power semiconductors and power devices are shining in the automotive industry. Indeed, not only pure electric vehicles, but also hybrid plug-in hybrid vehicles have many application scenarios for semiconductors. The current use of semiconductor devices per vehicle has increased by an order of magnitude compared to the past, and the price of semiconductors used in cars currently has witnessed a downward trend. Furthermore, for companies such as WeEn Semiconductor, technological innovation and investment in these technological advancements could enable electric vehicles and future automation industry to benefit from them.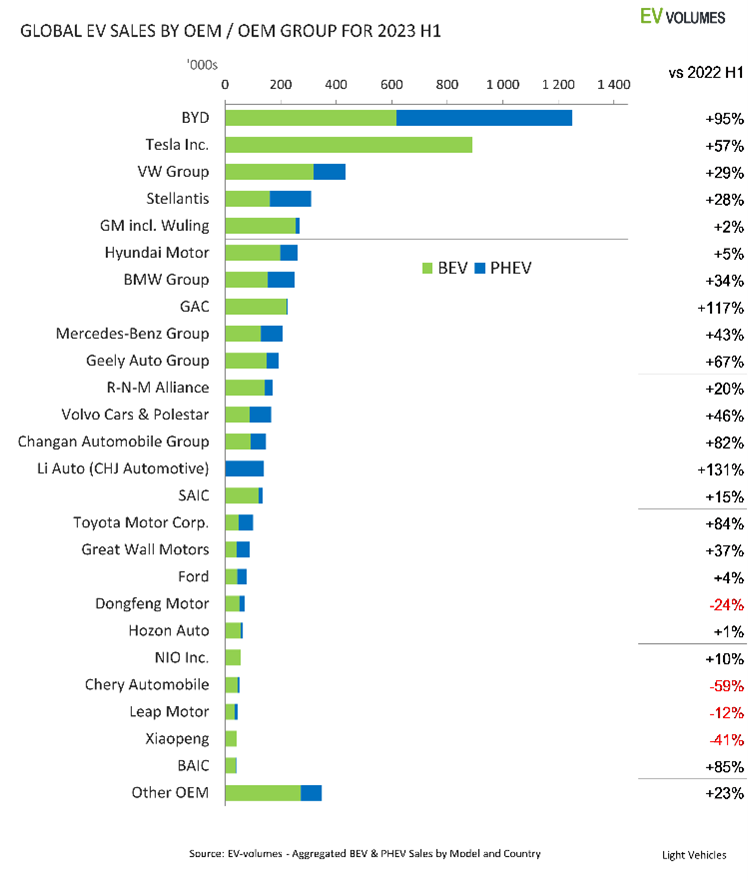 Global electric vehicle sales ranking for the first half of 2023
Indeed, the entire electric vehicle industry is experiencing rapid development. In the chart, you can see that some leading car companies are well-known, but there is also a surge of new companies entering the race, and traditional vehicle companies are undergoing a transformation, for example, traditional vehicle manufacturers are transitioning to electric vehicles.
Nowadays, governments around the world are strongly supporting the development of electric vehicles. Taking Shanghai as an example, there is no limitations on the purchase of electric vehicles, and a single household is even allowed to own three electric cars. "In Germany, if you purchase an electric vehicle, the government will even provide you with certain subsidies and other incentives. We find that similar subsidy policies have already appeared in many places." Markus Mosen pointed out, "Although subsidies have driven the development of the electric vehicle market, as the electric vehicle market flourishes in the future, the intensity of subsidies will become less and less."
Currently, China holds the largest share of the electric vehicle market, followed by the United States and Europe. These three major markets will greatly drive the innovation of the semiconductor industry and further market demand for semiconductors.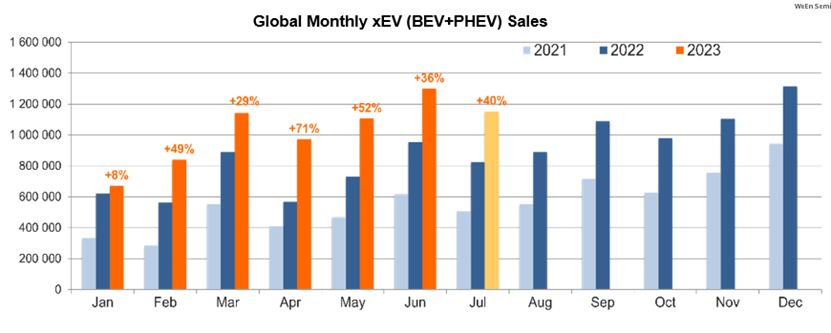 "The global monthly electric vehicle sales data from several leading automakers convey a strong signal that the market is developing very rapidly with no signs of slowing down. But we also need to note that the key entry point to boost the development of electric vehicles is to reduce their energy consumption and at the same time lower the cost of devices." Markus Mosen said.
The trend towards 800V platforms is inevitable, and silicon carbide is more cost-effective overall
At present, more than 30 automakers have announced that they have 800V high-voltage platform electric vehicles, of which more than 20 models have been launched. 90% of the 800V models have chosen silicon carbide main inverters, and only 10% are still using the original silicon-based solution. The popularization of silicon carbide is because of the innovation of semiconductor manufacturers, that has significantly helped to reduce the associated costs.
The cost of semiconductor devices is extremely important for electric vehicles, as it directly affects the overall vehicle price, furthermore affecting the market share of automakers. Markus Mosen predicts that due to the drive of terminal demand, global investment in automotive semiconductors will reach USD 20 billion by 2028. The capacity increase brought about by large-scale investment can greatly reduce the cost of original devices such as silicon carbide.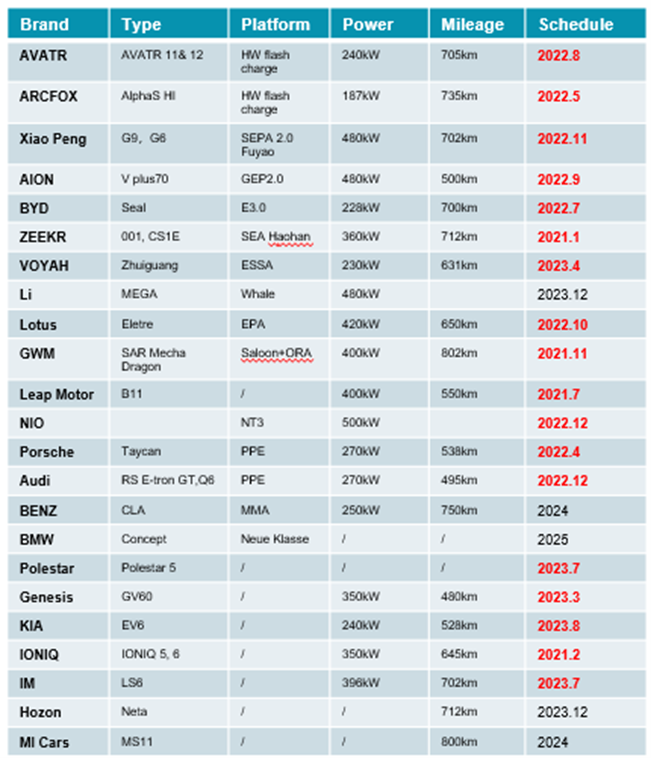 A list of car manufacturers with 800V platforms
It is projected that by 2027, 20% of hybrid vehicles will also adopt the 800V system. Meanwhile, by 2025, more 400V models are expected to switch to silicon carbide main inverter solutions. Undoubtedly, the future of electric vehicle platforms will evolve from low voltage to high voltage. The new generation of semiconductors, such as silicon carbide, with their high power density, high frequency, low loss, and high voltage resistance characteristics, maintain high efficiency and even eliminate the need for cooling systems, further facilitating this trend.
"Although it may now only cost $2 to obtain a very good silicon-based device, the cost is much lower than before. However, hundreds or thousands of such devices are needed in the assembly process of automobiles, so many manufacturers do not want to increase the cost by using high-end semiconductor technology, and just want to use relatively traditional technology to meet the basic functions." Markus Mosen stated, "This is why, despite the clear driving experience advantages of high-voltage platforms and their significant contributions to reducing the Earth's temperature, some manufacturers still insist on using low-voltage or low-frequency technology platforms."
In this regard, the industry pioneers represented by Tesla and BYD have set a good example, leading more companies to apply new semiconductor technologies in the future.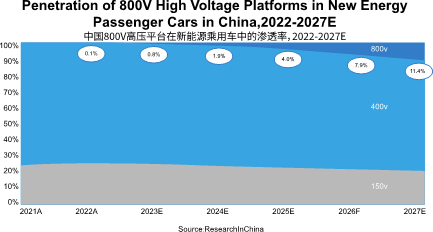 Why are these leading companies so active in adopting silicon carbide? Because compared with the Si IGBT + FRD (Fast Recovery Diode) scheme, the full silicon carbide power module (SiC MOSFET + SiC diode) can reduce the total loss by 44%, from 820W (IGBT) to 460W; the switching loss (turn-on + turn-off loss) is reduced by 80%, from 450W of IGBT to 95W.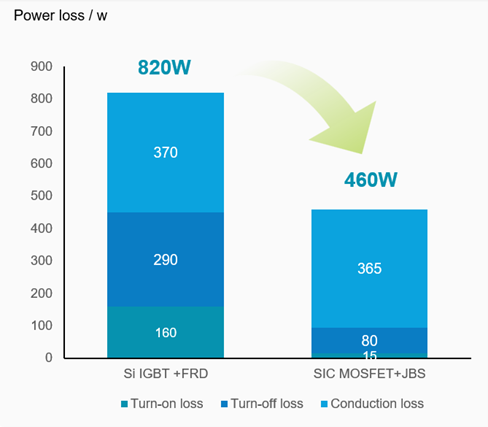 Conclusion
Finally, Markus Mosen introduced WeEn and their product portfolio. As a company spun off from NXP, WeEn has over 50 years of leading experience in the power semiconductors. Their product portfolio includes advanced Gen6 SiC diode technology, a rich SiC-MOSFET product lineup, full silicon carbide modules, and automotive-grade silicon carbide.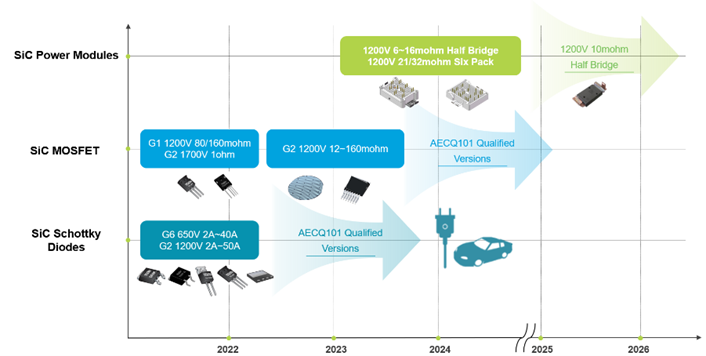 WeEn can provide a rich product portfolio as a turnkey solution to meet electric vehicle OBC application needs. Most of the components we can provide are automotive grade, and other components are also undergoing vehicle certification.
Although silicon carbide is very popular in electric vehicles and charging markets today, Markus Mosen believes that in some other industries, silicon-based power devices are still very important. WeEn also combines silicon-based and silicon carbide technologies in its wafer and power module plants, thus having more efficient power solutions.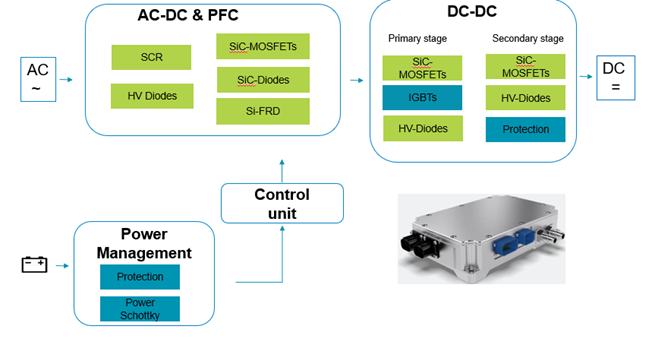 According to the market research firm Omdia's 2022 data, WeEn's thyristor products ranked first in market share in China and second globally. Their silicon carbide rectifier products ranked first in the Chinese market and seventh globally. Throughout 2022, WeEn's semiconductor shipment reached 1.3 billion units, with a total of over 5,000 global customers.

Profile of Markus Mosen
Mr. Markus Maria Mosen, born in 1959, is of German nationality and holds a master's degree from the University of Cologne in Germany. From 1992 to 1998, he served in various roles including senior analyst and manager in the Department of Corporate Strategy and Business Development at Siemens AG in Germany. From 1999 to 2007, he served as the Vice President at Infineon Technologies. From 2007 to 2015, he held various managerial and vice president positions at NXP Semiconductors Ltd. Since 2016, Mr. Markus Mosen has been serving as General Manager of WeEn.
He has participated in and witnessed significant milestones in the global semiconductor industry. His rich professional experience and diverse international perspectives have endowed him with exceptional foresight and execution capabilities in fields such as business management and industrial investment. His contributions have been instrumental in advancing the development of the global intelligent manufacturing industry.
About WeEn Semiconductors
Backed by over 50 years' legacy in core technologies and with Global Sales Offices in Greater China, Europe, Asia Pacific and the Americas, WeEn Semiconductors' products are used in smart home appliances, electric vehicles, and telecommunications industries, providing customers with reliable and professional technical support in their respective industry segments. With its proprietary power semiconductor technology and excellent quality and performance, its products have been adopted and proven by many well-known companies across the globe.
For more information, please visit https://www.ween-semi.com.