Double Honors: WeEn Semiconductors Shines in 2023 IIC
Recently, the 2023 International Integrated Circuit & Component Exhibition and Conference (IIC) concluded in Shenzhen. WeEn Semiconductors was honored with two awards at the WEAA Global Electronics Achievement Awards: Executive of the Year and Best Power Semiconductor/Driver of the Year
Dual Recognition Demonstrates Continued Excellence
Mr. Markus Mosen, CEO of WeEn Semiconductors, was honored with Executive of the Year. He has worked in the semiconductor industry since 1992 and held many senior positions at Siemens, Infineon Technologies and NXP Semiconductors, with extensive management knowledge and expertise. As CEO of WeEn Semiconductors, he has led the company to remarkable achievements in a highly competitive market over the years.
Mr. Markus Mosen, by virtue of his exceptional leadership skills and visionary decision-making, has made wise choices during critical moments in the global semiconductor industry. His international perspective and experience in industrial investments have enabled him to analyze industry trends insightfully, and to develop innovative strategies for WeEn Semiconductors that drive the company's remarkable development in the field of intelligent manufacturing.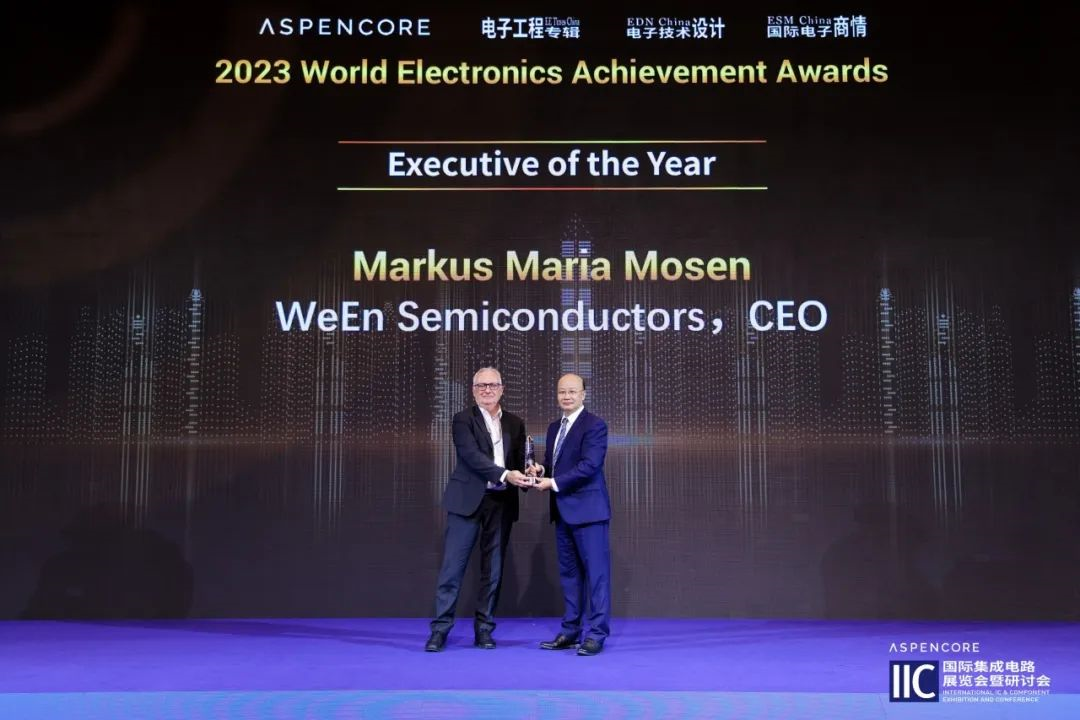 In addition, WeEn received the Best Power Semiconductor/Driver of the Year award for its 1200V/12mΩ Silicon Carbide Power MOSFET Wafer. This product uses innovative SiC MOSFET high-reliability planar gate structure technology, which significantly improves the performance and reliability of the device. Moreover, this product mainly targets markets such as electric vehicle main drive power modules and solar/energy storage converter modules. These markets have a growing demand for efficient and reliable power semiconductor products, and WeEn's innovative solutions comprehensively meet these requirements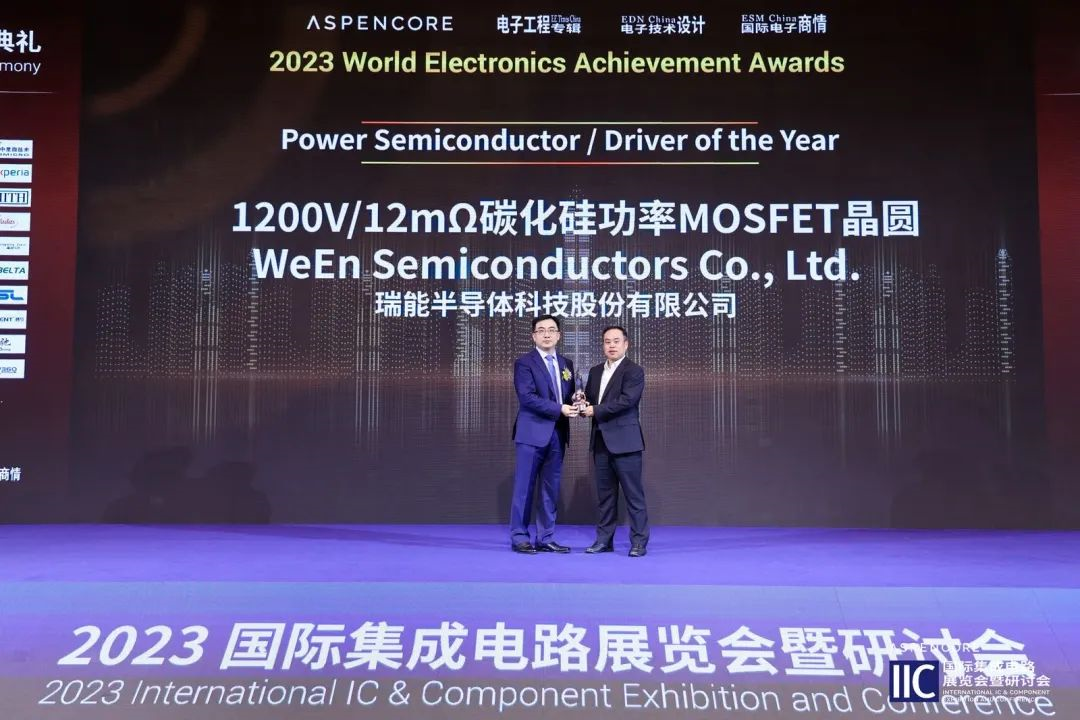 CEO Speech Drives Green Revolution Forward
During the Global CEO Summit, Mr. Markus Mosen, CEO of WeEn Semiconductors, delivered a keynote speech titled Power Semiconductors Contribute to a Cooler Plant. He emphasized that power semiconductors are an essential aspect of achieving carbon neutrality as they are closely linked to the power consumption and heat dissipation of all electrical devices. "Over the past decade or so, semiconductor professionals have been dedicated to minimizing power loss or energy waste, and thus many new technologies and innovations are precisely aimed at this point." Furthermore, he introduced the applications of silicon carbide technology in the field of new energy vehicles. He shared the current status and future development trends of the new energy vehicle market during the presentation. He also showed the continuous innovation of WeEn Semiconductors in its development and product technology, which has provided important support for new energy vehicles.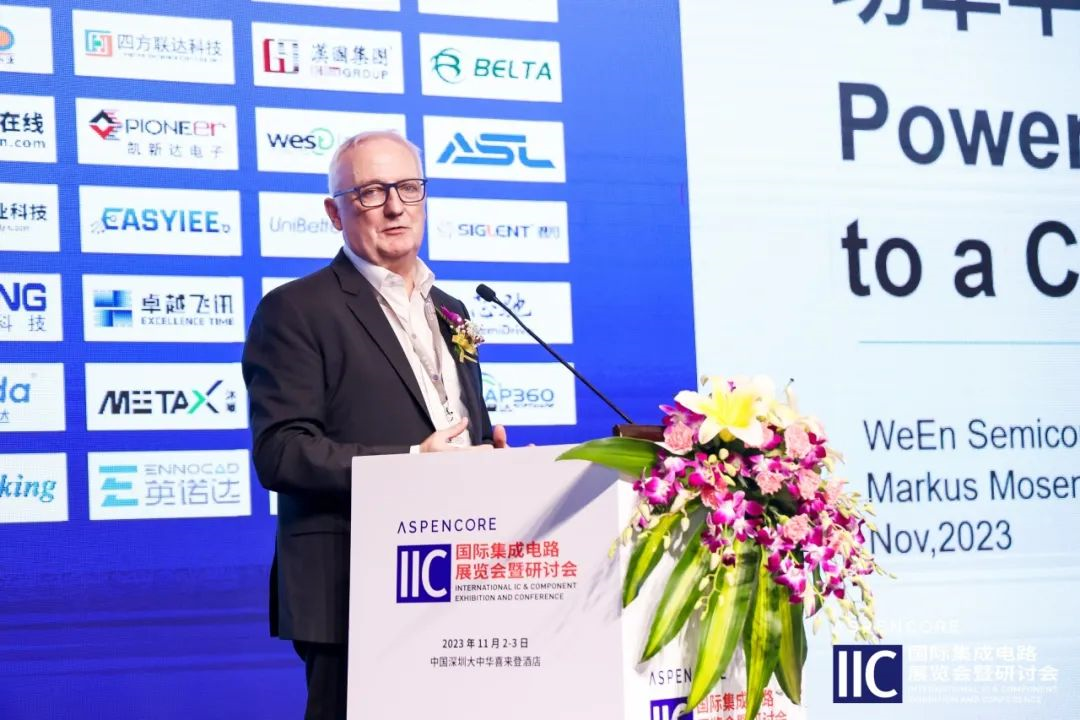 According to the market research firm Omdia 2022 data, WeEn's thyristor products ranked first in market share in China and second globally. Their silicon carbide rectifier products ranked first in the Chinese market and seventh globally. Throughout 2022, WeEn's semiconductor shipment reached 1.3 billion units, with a total of over 5,000 global customers. Mr. Markus Mosen stated that in the coming years, with the increasing diversity and differentiation of market demands, the launch of WeEn's new technologies and products would better satisfy market needs.
About Global Electronics Achievement Awards
The Global Electronics Achievement Awards are organized by ASPENCORE, the largest media group in the field of electronics technology. They aim to recognize and honor the companies and managers who have made outstanding contributions to advancing the global electronics industry. The companies, managers, and products that are shortlisted in various categories are all industry leaders, reflecting their outstanding performance in the industry.
Thank you once again for your valuable vote! WeEn Semiconductors will continue to innovate and uphold excellence. We are honored to receive two WEAA awards, which recognize our efforts and motivate us to move forward. We appreciate your support and look forward to working together to create a greener electronic world in the future.
About WeEn Semiconductors
Backed by over 50 years' legacy in core technologies and with Global Sales Offices in Greater China, Europe, Asia Pacific and the Americas, WeEn Semiconductors' products are used in smart home appliances, electric vehicles, and telecommunications industries, providing customers with reliable and professional technical support in their respective industry segments. With its proprietary power semiconductor technology and excellent quality and performance, its products have been adopted and proven by many well-known companies across the globe.
For more information, please visit https://www.ween-semi.com.